Want a little extra incentive to work on individual and team skills? Consider this - if you win the Snickers Montana State Cup 2003 (held in Missoula) there will be a big-time regional tournament in your future.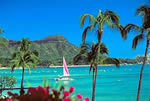 Next year's cup winners will qualify for regionals in Hawaii! Great beaches, warm water and mean soccer - what could be better?
Now is the time to prepare. Every minute you spend honing your individual skills makes you a better player and potentially a better team mate. And who knows there might just be a cool trip to Hawaii in your future. No promises, mind you, but it sure is a nice goal to work toward!